---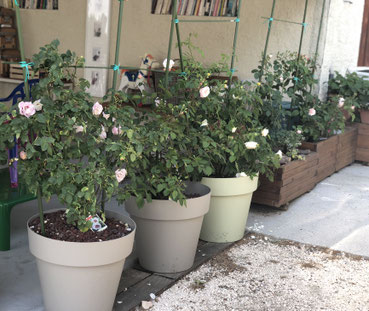 May is full of special days: mother's day, Mary's day, Marco's birthday! May is also special for roses.
I can not say which my favourite season is, each period of the year is special, but for sure I immediately fall in love as soon as feel the first scent of spring in the air. The bright  colours of Anemones and buttercups announce the season of rebirth but only the strong fragrance of lillac and rose takes me out of winter cold.
We planted some roots coming from David Austin garden last October and I was so surprised last December when I saw such strong and luxuriant plants grew up in the vases. The first three varieties ("The Lady of the lake", "Claire Austin" and the "Generous Gardener" ) are now blossoming, the "Bobbie James" , the "Zephirine" and "Cinderella" show the first buds. It takes so much time and so much attention to feed, treat and sustain the growth of those gorgeous varieties but when the first harvest was composed in a bouquet I was so excited and proud about myself. Perfection is still far away but I'm learning, studying and improving day by day. The excitement coming form this wonderful flowers is something that fills my heart.The most precious varieties are located in the big vases along the short side of hayloft so also the guest coming during the summer can enjoy flowers and their scent  during the breakfast time. Some young plants (Bobbie James varieties) are along the long side of hen -house so the geese naturally pruned in march.I was so sad when I found the disaster but the roots are healthy and plants are growing up stronger the before. I hope their thorns protect branches for the future. The Cinderella guards the patio in the center of frontal garden and, for the moment, the young hens are not interested about her.
---